---
Georganiseerd door:
Thaise Yoga Massage School - Thierry Bienfaisant
Datum:
zaterdag 9 juni 2018
Tijd:
08:30 tot 10 jun 2018 17:30 uur
Prijs:
€ 240 per workshop
Zaal:
Hoekkamer – 26m2 – 12-24 personen
---
Meer over de organisator
Mail de organisator
---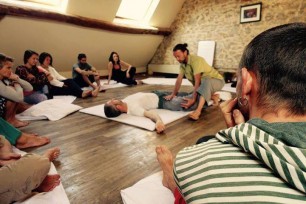 The Sacred Dance of Thai Yoga Massage
°°°Meeting point between static and dynamic flow°°°
For both the giver and receiver, Thai Yoga Massage is a sacred dance, a meditation in movement
It is a transformative and healing journey, A deep experience on the way we move, interact, communicate and the way we touch.
This 2 days program is open to beginners, intermediate and advanced practitioners. The course requires your attention and Presence more than technical experiences.

°°°°°°°°°°°°°°°°°°°°°°°°°°
The course is inspired by the Dhamma and by the instruction of two Thai Massage masters: Chayuth – dynamic, rhythmic style and Pichet – static, deep, focussing on the importance of feeling.
The combination of this two influences of the northern style of thai massage offers a holistic experience, a sacred dance…
The practice engages a state of meditation where deep stretches inspired by asanas are rhythmically applied along with pressure on sen lines of the body. Healing occurs in a state of mindfulness, equanimity, compassion and shared happiness, where tensions are released and the free flow of energy resumes.
°°°°°°°°°°°°°°°°°°°°°°°°°°°°°°°°
Description of the course…
° We will travel from the feet to the head with demonstrations, theory and practice time.
° Anatomical description in relation to the techniques
° Dynamic techniques, mooving fluids, opening the joints, effective on central nervous system…
° Static techniques, deep and slow..opening the tendons, creating space.
°°°°°°°°°°°°°°°°°°°°°°°°°°°°°°°°°°°°°°
Program
08.30 – 9.00: meditation
09.00 – 12.30: Practice
12.30- 14.00: Lunch & break
14.00 – 17.30: Practice
°°°°°°°°°°°°°°°°°°°°°°°°°°°°°°°°°°°°°°