---
Georganiseerd door:
Jeff Hamburg
Datum:
zondag 29 april 2018
Tijd:
15:00 tot 17:00 uur
Prijs:
€ vrijwillige bijdrage, gratis evenement
---
Meer over de organisator
Mail de organisator
---
---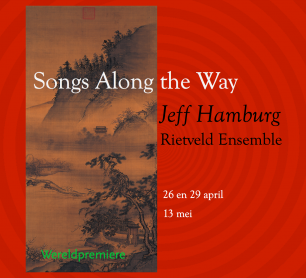 Songs Along the Way
Wereldpremiere
Reeks concerten met nieuw werk van Jeff Hamburg, op teksten van Lao Tse
Without going out the door,
you may know the whole world.
Without looking through the window
you may see the way of heaven.
The farther you go,
the less you know.
Lao Tse: Tao Te Ching
Helena van Heel, mezzo-sopraan, vertolkt het werk
samen met het Rietveld Ensemble
29 april 15.00 De Roos, Amsterdam
Experiment waarin eigentijdse klassieke muziek wordt gecombineerd met een performance die het publiek via oeroude technieken in trance brengt. Daarna wordt het publiek geleid door de "mental composition" Astronaut in Me door kunstenares Marija Sujica.
https://jeffhamburg.wordpress.com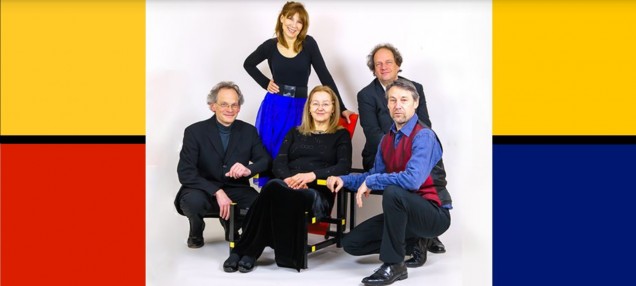 The Rietveld Ensemble (www.rietveld-ensemble.com) is a chamber music ensemble made up of top-level musicians with international backgrounds based in Utrecht, The Netherlands.
Its members are conservatory professors, soloists and principal players in major Dutch orchestras including Elisabeth Perry, concertmaster of the Radio Philharmonic and professor of violin at the Utrecht Conservatory, Chris Duindam, professor of violin at the Conservatories of Utrecht and Tilburg, Richard Wolfe principal viola of the Netherlands Chamber Orchestra and professor of viola at the conservatories of Amsterdam and Utrecht, Matthias Naegele, international cello soloist and chamber musician and Nancy Braithwaite, professor of clarinet and chamber music at the Rotterdam Conservatory, Codarts.
They are dedicated to performing chamber music by composers from the classical period of Mozart and Haydn to living composers and they have a special relationship with the Utrecht based Dutch/ Argentinian composer Carlos Michans (www.stichtingkaleidos.nl).
Since September 2014, the group has hosted "Rietveld Ensemble and Friends," a concert series which takes place at the Kathedrale Koorschool in Utrecht. In these free concerts the group performs works for strings, winds and piano with instrumentations ranging from solo pieces to octets. The ensemble regularly invites exceptionally talented young players to join them in these performances creating a training ground for chamber music skills.
---
The name of the ensemble is inspired by the famous Dutch architect and designer Gerrit Rietveld (1888-1964) who lived and worked in Utrecht. Much of the repertoire for the Rietveld Ensemble was written during his lifetime.
Rietveld Ensemble:
Elisabeth Perry, violin
Chris Duindam, violin
Richard Wolfe, viola
Matthias Naegele, cello
Nancy Braithwaite, clarinet
Jeff Hamburg "Songs Along the Way"
Marija Sujica "Astronaut in Me"