ABOUT DE ROOS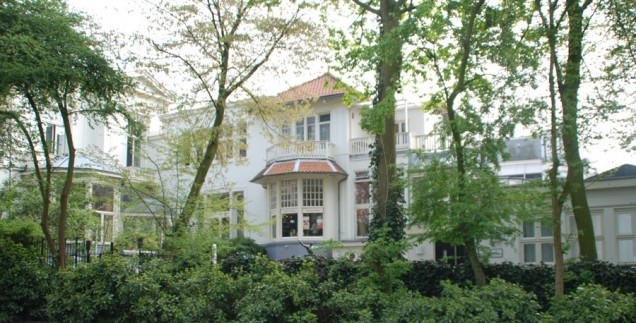 ---
Perfectly wedged in-between Museumplein and Vondelpark, this impressive 19th-century villa has much to offer. "De Roos" (the Rose) is a not-for-profit centre for personal and spiritual development. That's a lot of words for saying you're always welcome here.
With over 70 lessons every week, we offer courses and workshops on all kinds of topics, from daily yoga and meditation lessons, to networking and presentation skills, singing, astrology and even therapy consults.
You name it, we've got it! To top it off, we house a fully equipped kitchen, a conservatory, a terrace, a gift shop and a meditation room.
Curious? Of course you are! We invite you to come catch the great atmosphere here at de Roos! Grab a cup of coffee and some homemade pie, browse our spiritual gift shop on the second floor, or check out the brochures at our friendly reception desk (Yes, we do speak English).
Want to know more? Have a look at our Facebook page or the online agenda. We hope to see you soon!
---
NEW: Check out the English spoken events here >>
---
Location:
de Roos
P.C. Hooftstraat 183
1071 BW Amsterdam
Opening hours:

Monday – Friday 08h30 – 22h00
Saturday – Sunday 09h00 - 17h30
- Please note that the Roos will be closed on all official Dutch holidays.
Goede vrijdag: FR 19 april 2019 – closed
1e Paasdag: SU 21 april 2019 - closed
2e Paasdag: MO 22 april 2019 - closed
Koningsdag: SA 27 april 2019 - closed
Bevrijdingsdag: SU 5 mei 2019 - closed
Hemelvaartsdag: TH 30 mei 2019 - closed
1e Pinksterdag: SU 9 juni 2019 - closed
2e Pinksterdag: MO 10 juni 2019 - closed
Zomersluiting 2019: - closed
Kerstsluiting 2019:  - closed
General information:
Email: info@roos.nl
Tel. +31 (0)20 – 6890081
www.roos.nl


---
RENTAL DEPARTMENT
Do you want to rent a meeting space? Or are you looking to book a venue in Amsterdam for a professional presentation or course? Call the Rental Department! (Dutch: Verhuur)
De Roos features no less than thirteen rooms, all different in size, application and bursting with ambiance and great 19th century details. Every meeting space can be equipped with assets to accompany your presentation or course (for example, beamers, laptops, yoga mats or lunch arrangements). Seating will be customised to your needs. Do note, due to the complicated structure and age of the building, a proper Wi-Fi connection cannot be guaranteed everywhere in the building.
Our prices are competitive, especially if your company operates in the field of personal and/or spiritual development. Please contact us to find out which prices are applicable to you. Feel free to ask for a guided tour around the premises, or have a preview of the spaces for rent.
Office hours:
Monday to Friday 10h00 – 16h30
Email: verhuur@roos.nl
Tel. +31 (0)20 – 6890081
Information page in Dutch: click here >>
A preview of the rooms: click here >>
A price list (in Dutch): click here >>
---
WEBSITE
Our webmaster is usually available on working days from 10h00 to 17h00. To ensure the quickest response, please send your questions by email. In case of a 'digital emergency', please contact the rental department.
Email: website@roos.nl
---
ROOS SPIRITUAL GIFT & BOOK SHOP
There is nothing you won't find in our shop (Dutch: Winkel). Books, jewelry, yoga mats and cushions, tarot cards, candles, incense and oils, crystals, statues, souvenirs and spiritual gifts… We can go on and on… Have a preview on the information page or come and visit us, we're open 7 days a week!
Monday – Friday: 10h00 – 18h30
Saturday: 10h30 – 17h30
Sunday: 11h00 – 17h30
Tel. +31 (0)20 – 6890436
Email: winkel@roos.nl
Information page in Dutch: click here >> 
---
TEAROOM DE ROOS (+TERRACE AND CONSERVATORY)
Our Tearoom (Dutch: Theehuis) is a quiet and welcoming place in the midst of the Vondelpark/ Museumplein area. A great spot to share a piece of cake with friends, or read a book and enjoy the Vondelpark view from the 2nd floor conservatory (Dutch: Serre).
We offer a number of delicious vegetarian sandwiches, pies, soups and snacks. The Roos Tearoomstocks all sorts of tea, coffee and lemonades. We do not serve alcoholic beverages. We work with fair trade and organic products as much as possible! Please check out our English menu here >>
Monday to Friday from 08h30 – 18h00
Saturday and Sunday from 08h30 – 17h30
To all our guests: our terrace is a non-smoking area!
Tel. +31 (0)20 – 6890081
Email: theehuis@roos.nl
Information page in Dutch: click here >>
---
TAKE A BREAK! SILENT ROOM (FREE ADMISSION)
Another one of those great Roos' features: a silent room (Dutch: Stilteruimte) , perfect for meditation or just taking a break from all the bikes and tulips.
This room is free to use, but leave your shoes at the door and your phone switched off. For more information, please go to the information desk at the main entrance.
Monday – Friday 08h30 – 22h00
Saturday – Sunday 09h00 - 17h30
Email: info@roos.nl
Tel. +31 (0)20 – 6890081
---
CONTINUOUS ART EXHIBITIONS (FREE ADMISSION)
Every couple of months, de Roos features a different artist. We fill the walls of our great venue with art paintings, photography or drawings. Please subscribe to our newsletter to find out the vernissage dates! If you are interested in exhibiting your own work, please do let us know!
Monday – Friday 08h30 – 22h00
Saturday – Sunday 09h00 - 17h30
Email: info@roos.nl
Tel. +31 (0)20 – 6890081
Information page in Dutch: click here >>
---