Manifest Your Desires
Tijdstip:
11-12-2023
van 18:00 tot 21:30
Prijs:
15€ OF 25€ inclusief Umaversity Manifest per persoon
Naar organisator
Manifest Your Desires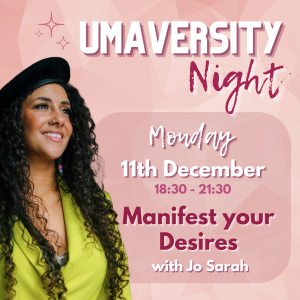 Manifest your Desires with Jo Sarah
"Join us for a remarkable Umaversity night where you'll discover the steps to manifesting your deepest desires that you want for you life. Jo Sarah, the mind and founder behind Umaversity has spent the last 8 years perfecting the art of turning her dreams into reality by creating her own manifesting method. From her career, and her money to her health and love life. Now it's time for her to share it with you. Learn how to custom design your own affirmations tailored to reprogram your mindset and bring you closer to your desired dream life. Learn ways you can shift your mindset to align with the life you've always imagined, like a mental upgrade to 'Dreams Come True 2.0′. With Jo Sarah's guidance, you will craft a clear blueprint for the life you desire, creating your personal roadmap to your desires. You will also get tools to identify and overcome the obstacles that have been holding you back, clearing your path to your desired life.
Don't miss this chance to learn how to make your dreams a reality. Get your tickets now and join us on this transformative journey with Jo Sarah at Umaversity."
Contacts
Mail:info@umaversity.com
tel: 0657349505

Socials
Website: http://www.umaversity.com/
IG: @umaversity